It's undeniable that electric bikes are storming the market today. As a result, you can have a wide selection of electric bikes from different classes. However, not all of them possess the same quality and recognition. Because admit it, we always have different biases when it comes to brands not just in e-bikes but in all products.
From delivery electric bikes to cargo electric bikes, electric mountain bikes, city bikes, commuter bikes, hunting bikes, and so on. It's a good idea to look for the reputation and well-received feedback of the e-bike brand so you know what you're getting.
That said, among the criteria when selecting an e-bike is the brand reputation. Because we often associate the quality of the bike with the brand reputation. So, if you're wondering what are the best brands of electric bikes are currently offered right now, read this article all the way down.
What's New With Electric Bikes?
The advent of electric bikes is increasingly gaining popularity because of convenience and ease of use, making them more in demand for every people. Apart from the sales, it's also interesting the upcoming innovations, designs, and added features of electric bikes. You may be wondering, what's new with an electric bike?
First is the battery technology. Batteries are still currently in the developing stage in becoming more longer-lasting, increasing the number of charging cycles and increasing energy storage while also making it lighter and efficient.
Second is the frame design making it more ideal for every kind of terrain. Among the latest development are the better grip absorption, stronger and lighter nylon pedals, and also making the components functions very well.
There's more to come in electric bikes which is worth waiting for and we should also be excited about.
As the demand for electric bikes is increasing, there's a forming tight competition between manufacturers. This is actually a good indication, given that electric bikes will be the major mode of transport in the future.
Different E-bike Classes
You might think that electric bikes are the same — the same power, speed, and function. In fact, electric bikes have three different classes and the only differences among them are the pedal-assist technology, battery, and motor power. But there are still differences in the definitions among manufacturers and retailers.
However, your best way to have a clear understanding is to check your e-bike compliance and regulation if you really want to check the accurate definition of e-bike classification. This section will briefly expand the three classes of electric bikes. If you want to know more, you can check our E-Bike Class Explained for comprehensive details.
Class 1
These electric bikes are defined by most municipalities as very similar to conventional bikes such as mountain bikes and commute bikes. The only difference is that electric bikes feature pedal-assist technology.
Class 1 e-bikes have a maximum speed of up to 20 miles per hour with pedal assist. These electric bikes can be used on roads, bike paths, city streets, or literally anywhere where you'd take a manual bike.
Class 2
Electric bikes with a throttle that boost speed without the need of pedal and stop pedal-assist beyond 20 miles per hour are considered class 2 e-bike. Basically, class 2 e-bikes are the same as class 1 bikes but the difference to the other class is this uses throttle.
Similar to class 1 e-bikes, class 2 e-bikes can be also used everywhere as manual bikes can.
Class 3
Class 3 e-bikes offer far more different features compared to classes 1 and 2. These electric bikes are suitable for both adventure and commuter bikes. You can use these from leveled roads to tight or technical trails with ease.
Also, another major difference between class 3 electric bikes from the two e-bike classes is the speed. Because this has greater max speed, reaching up to 28 miles per hour with pedal assistance.
Be advised that class 3 may not be used in some other trails or lanes due to their speed. That's why we highly advise that you know your local e-bike regulations so you won't be dismayed when using your class 3 electric bike.
The Rad Power is based in Seattle, which offers a wide variety of electric bikes in most types of riding styles such as off-roads, commute e-bike, deliver and cargo e-bike, and city bike.
Among the trademark of Rad Power Bikes is that their e-bike models are accessible and easy to use, making it a very practical mode of transportation to anyone who is always on the go.
Besides that, Rad Power Bikes are quite popular due to their before and after-sales service. In addition, most of their electric bike models come in affordable price ranges yet its quality is pretty decent.
Rad Power Bikes have different models and among the popular ones are RadCity, RadRover Plus,
RadWagon, RadRover, RadMission, RadRunner, and RadRunner Plus.
A Quick Look To Rad Power Electric Bikes' Best Sellers: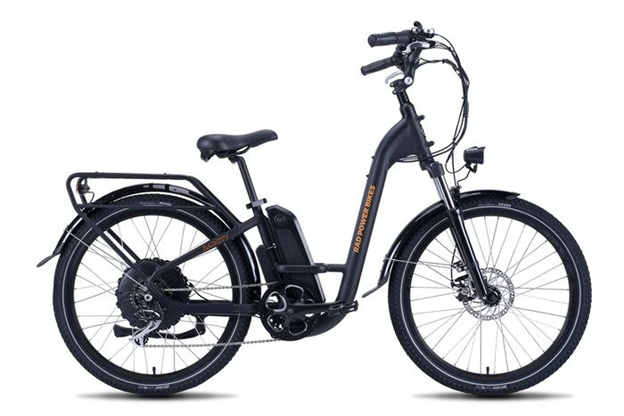 The newest released RadCity electric bike model is among the best Rad Power Bikes you can buy from Rad Power Bikes. It's well suited for a daily commute and for urban roads because of the aluminum low frame design making it accessible for beginners.
Added to that are the new features and improved motor and battery for long-lasting use. Powered by 750 watts direct drive hub motor and equipped with 48V, 14 Ah Li-ion battery. Its max distance is up to 45 miles per charge and has a maximum speed of up to 20 miles per hour.
Geared with a 7-speed Shimano SL-TX50-7R thumb shifter, 26" x 2.3" Kenda K-Rad tires, among the added bike components. The LCD has all the information about speed, battery life, and pedal assist level.
Among the strong suits of RadCity Step-Thru electric bike are efficient motor, affordable price range, and low frame design.
Specifications:
Motor: 750 Watts Brushless Motor
Battery: 48 Volts, 14 Ah Lithium NMC Samsung 35E cells
Maximum Distance: 45 miles
Maximum Speed: 20 miles per hour
Weight: 66 lbs.
Price: $ 1499.00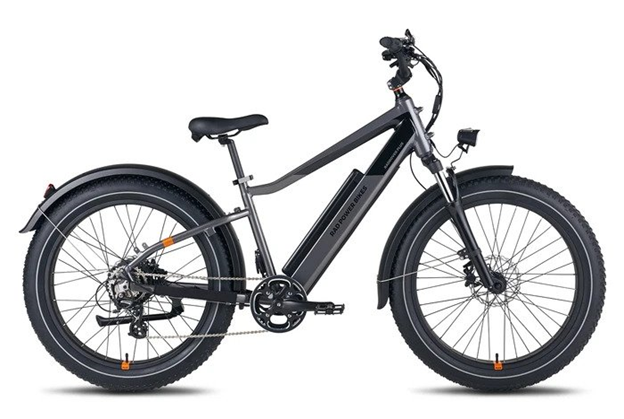 The RadRover electric bike is the latest version of the Rad Power e-bike. This is great news to adventure riders because it has improved and reinforced bike components. With its proven great quality and sturdy build and also upgraded battery and power, no doubt it's one of the promising e-bikes Rad Power has to offer.
This features a powerful 750-watt geared hub motor which has 15 percent more torque compared to previous RadRover versions. Also, the motor controller is redesigned for aesthetic appeal and durability. The battery is powered by a 48V, 14 Ah Samsung, or LG 18650 brand.
It's worth noting that this reaches up to 45 miles per charge, and this can reach 20 miles per hour at top speed.
Another notable feature is the new hydraulic brakes with better stopping power and versatile suspension for better navigation in difficult terrains. The frame is newly designed added with an ergonomic and sleeker design.
Specifications:
Motor: 750 Watts Brushless Motor
Battery: 48 Volts, 14 Ah Lithium Samsung or LG 18650
Maximum Distance: 45 miles
Maximum Speed: 20 miles per hour
Weight: 66 lbs.
Price: $ 1999.00
If you're an adventure e-bike rider, chances are you heard the QuietKat Electric Bikes. QuietKat electric bikes started around 2014 by Jake Roach, an outdoor enthusiast.
From then on, this e-bike brand established itself among the best electric bikes you can get that specialize in complex terrain and off-road activities such as trails, hunting, over landing, etc., but also can be used in almost any type of road.
The Quietkat electric bikes have a reputation of creating very sturdy frames, equipping the best bike components, as well as pairing with powerful motor and battery for better performance and more capacity, allowing longer use for outdoor activities.
A Quick Look To QuietKat Electric Bikes' Best Sellers: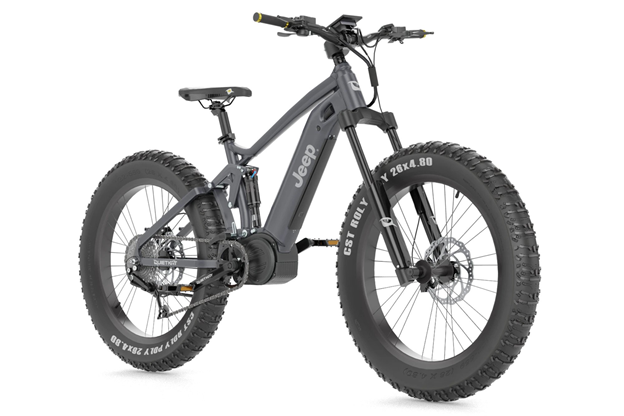 The newest release Jeep E-Bike by QuietKat is something to consider, especially if you are looking for the best adventure e-bike. The overall design looks promising added with improved bike parts, battery, and power that is ideal for extreme riding style.
This is the e-bike that you would root for when it comes to up hills and down hills or any type of rough terrain because of its massive 26″ × 4.8″ fat tires and due to its low pressure. It has 9-speed gear for a smoother shift.
The motor has a beastly performance and can perform well in off-road conditions due to its mid-drive motor capable of running 750W or 1000W while having 20 miles per hour with pedal assist and throttle.
Featuring a 48V, 14 Ah battery reaching 58 miles at its maximum range. Also, the Jeep E-Bike has full suspension.
Specifications:
Motor: 750 Watts or 1000 Watts Bafang Mid Drive
Battery: 48 V, 14.5AH
Maximum Distance: 60 miles
Maximum Speed: 20 miles per hour
Weight: 70 lbs.
Price: $ 6,699.00 - $ 6,899.00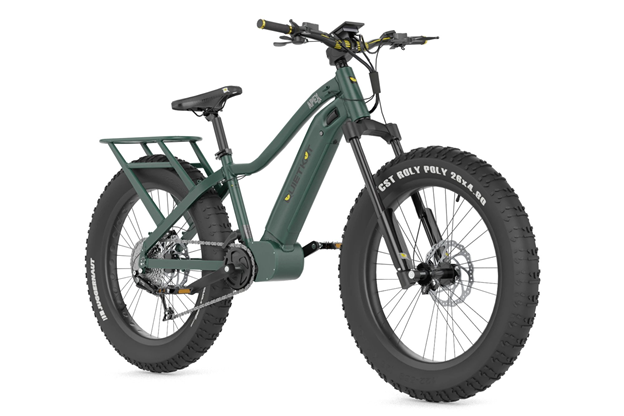 The Apex 5.0 E-Bike is another top-of-the-line product by QuietKat. This electric bike is touted as the highest e-bike when it comes to technology and performance which is evident in the model's impressive features as well as the overall design.
It's an electric bike that is well-curated in every outdoor activity such as fishing, mountain trails, sandy beaches, and even for hunting. You can never go wrong with this e-bike due to its sturdiness and efficiency even in the most complex terrain.
Houses with a strong driving force mid-drive motor wherein you can choose from 750W, 1000W, and 1500W. With these kinds of selections, you can conquer every difficult terrain you can think of. Also, the battery is also powerful having 52V and 48V depending on your preference.
With its large battery capacity and powerful motor, you can reach 58 miles at best with a single charge and pedal assist. Its top speed is 20 miles per hour max.
No wonder it's called the Apex, because this can carry heavy loads and the incredible features and overall design, making this the ideal choice for extreme outdoor enthusiasts.
Specifications:
Motor: 1500 Watts, 1000 Watts, 750 Watts Mid Drive
Battery: 52 V, 17.5 Ah / 48 V, 14.5Ah
Maximum Distance: 58 miles
Maximum Speed: 20 miles per hour
Weight: 71 lbs.
Price: $ 4,999.00 - $ 5,599.00
Founded by the Mordkovich brothers namely Yevgeniy and Boris. What started out as creating an electric bike from scratch for the sake of fun became one of the best electric bike brands on the market right now. With the brother's years of collective effort, their company came to fruition.
Currently, the Evelo Electric Bikes is a well-reputed brand that's been making premium quality electric bikes and continues to innovate for a decade now.
What's great about their brand philosophy is that they want "the 99 percent of the population to experience the fun and benefits of riding an electric bike".
What makes this distinctive from other distinguished e-bike brands are the unique design, innovative features, and accessibility in both before and after-sales service.
Like any other high-end electric bike brand, Evelo also offers a wide range of e-bikes in most riding styles from commuter e-bikes to folding e-bikes and tricycles.
A Quick Look To Evelo Electric Bikes' Best Sellers: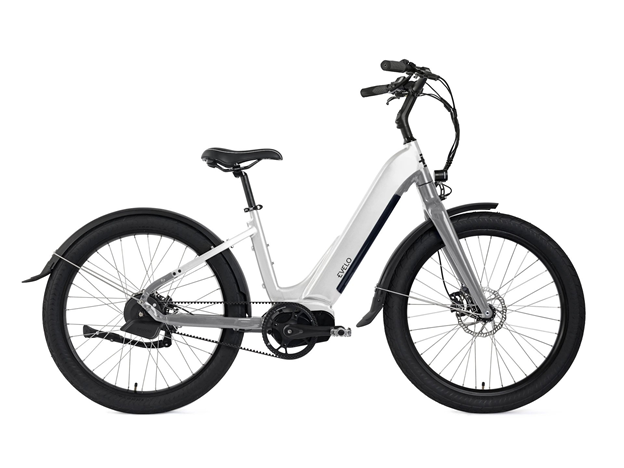 Evelo's top-end electric bike is the Omega model. The Omega prided itself as among the premium electric bike you can get on the market. The overall design and structure are incredible looking so sleek and stylish.
An electric bike but doesn't look like one. This is because the battery is integrated inside the frame, enhancing its visual appeal. Also, the Omega is a great e-bike for everyone due to its low frame design making it easier to ride anytime and at any age.
Interestingly enough, the battery is Samsung 48V, 15 Ah, and has been improved and extended which can reach up to 60 miles and you have the option to upgrade up to 100 miles. The e-bike has a 750 W mid-drive motor. The motor runs silently but extremely powerful, making this an ideal option for distant places.
There are other noteworthy features that the Omega has to offer but among that stands out is the belt drive system featuring Gates Carbon Drive, replacing the standard bike chain for a smoother ride experience.
Specifications:
Motor: 750 Watts Mid Drive
Battery: 48V 15AH Samsung In Frame Battery
Maximum Distance: 60 miles to 100 miles (if the second battery is included)
Maximum Speed: 20 miles per hour but can go further to 25
miles per hour at max
Weight: 64 lbs.
Price: $ 4,199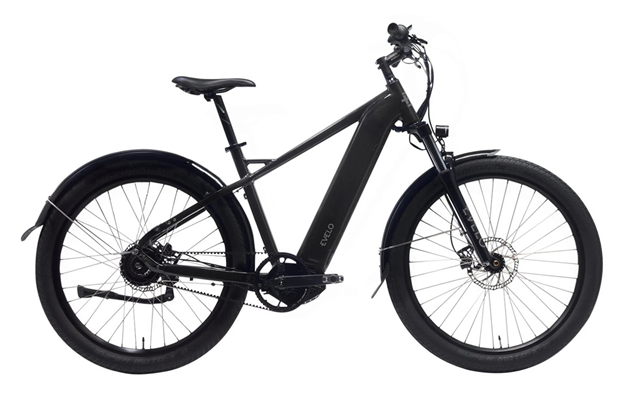 If the Evelo's Omega is an excellent commuter bike, the Atlas is one to consider if you want to conquer the mountain trails or any other rough terrain.
As expected the e bike's design is distinctive to other top-end competitors because of the integrated in-frame battery. Also, this is considered as the brand's flagship claiming that this is the "most powerful e-bike".
The frame is well adjusted for paved roads to complex terrain and for extreme outdoor activities. Not only that, this has an impressive range that reaches up to 60 miles but can reach further at 100 miles max with a secondary battery.
It includes a beastly Bafang 600W mid-drive motor and a powerful 48V 15AH Samsung In Frame Battery and has a max speed of 28 miles per hour.
There's a lot to expect in this premium e-bike. Plus, all the installed bike components are of premium quality and function smoothly for a better riding experience whatever the terrain can be.
Specifications:
Motor: 600 Watts Mid Drive
Battery: 48V 15AH Samsung In Frame Battery
Maximum Distance: 60 miles to 100 miles (if the second battery is included)
Maximum Speed: 28 miles
Weight: 66.2 lbs.
Price: $ 4,199
A Los Angeles-based company, Ancheer is one of the electric bikes that has been growing steadily and making a nice reputation among the electric bike community as well as the market. This e-bike brand offers a good quality model of electric bikes such as folding bikes, city bikes, electric mountain bikes.
In addition, Ancheer is worth considering if ever you are looking for a decent quality e-bike for a relatively low price with their highest price range only reaching a thousand bucks.
This is also a good brand to start especially if you are a beginner e-bike rider and for daily commuters who opt to ride an accessible and portable means of transportation that has a fairly reasonable price. Overall, Ancheer can deliver competitive performance and quality along with high end e-bike brands.
A Quick Look To Ancheer's Best Sellers: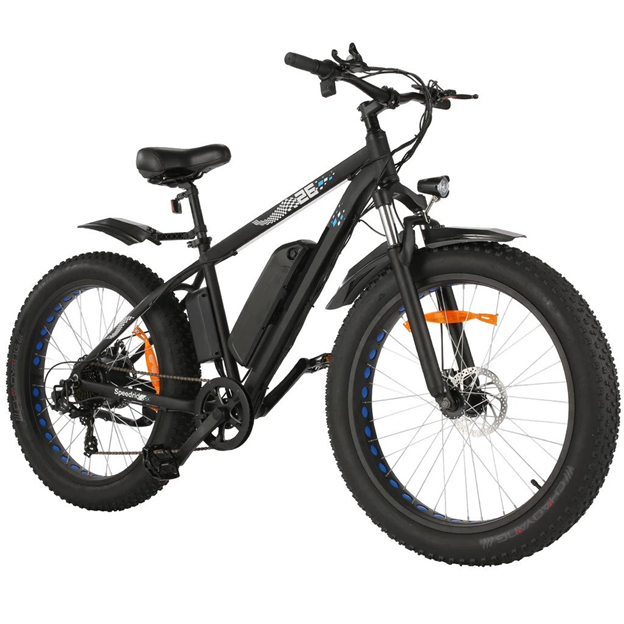 This electric mountain bike is Ancheer's premium e-bike model. It has an impressive build and can perform very well. In fact, this e-bike model is comparable to the other high-end e-bike brands but the only difference is that the Ancheer fat tire electric bike has a lower price range compared to its premium e-bike competitors.
It has a large battery capacity of 48V, 10 Ah and the range is remarkably good topping 40 miles. What's more, is this comes with a reinforced 500W motor. A perfect combination of battery and motor for a better riding experience from smooth roads to rugged roads.
The LCD is updated giving you the necessary information about the electric bike such as battery level, speed display, mileage, etc., which is extremely helpful for better control while riding. In addition, this features a wear-resistant and anti-slip fat tire.
Specifications:
Motor: 500 Watts Brushless Gear Motor
Battery: 48V 10 Ah Li-ion battery
Maximum Distance: 22 miles at best but can reach up to 40
miles (with pedal assist and throttle)
Maximum Speed: 15 miles
Weight: 59 lbs.
Price: $ 1,009.99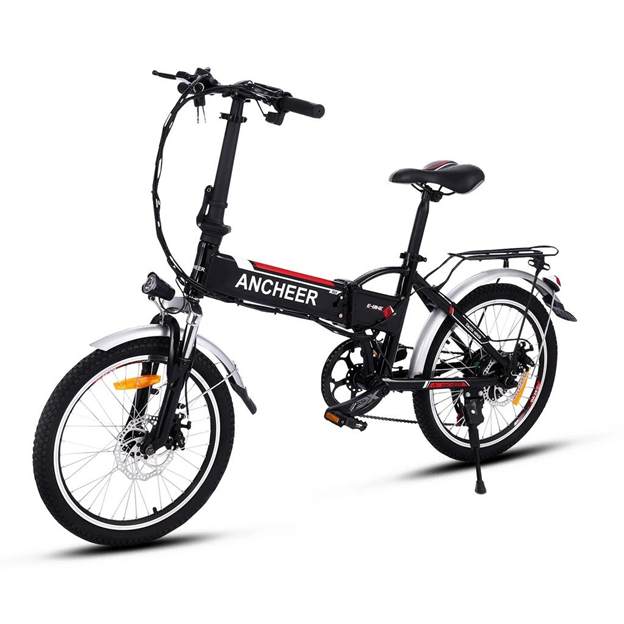 When it comes to daily commuting, the ideal bike is usually a folding bike or a cruiser bike because of its accessibility, portability, and you can easily beat the traffic even if it's a carmageddon. This folding city e bike is something to invest especially for daily commuters.
This folding e-bike may be small but this can take you through the narrow city streets. You can even carry one of these when taking public transportation. Its impressive design and affordable price point make this the best-selling for Ancheer Electric Bikes.
However, the ultimate reason why this is worth considering is its features and good quality components. A perfect combination of high speed 250W brushless gear motor and 36V, 8 Ah li-ion battery, this small bike has a maximum range of 15 miles and its max speed can run 15 miles per hour.
Sturdy frame that's made of aluminum with additional features such as LED headlight and power display. An electric bike that gives you an excellent bargain for its incredible features and portability.
Specifications:
Motor: 250 Watts Brushless Gear
Battery: 48V 10 Ah Li-ion battery
Maximum Distance: 15 to 30 miles with pedal assist and throttle
Maximum Speed: 15 miles per hour
Weight: 41 lbs.
Price: $ 719.99
The Engwe is among the electric bike company that offers compact but powerful folding electric bike while maintaining an affordable value.
They've been in the industry for about two decades and through those years, this brand slowly established a good reputation and now becoming one of the best e-bike brands.
Most of their electric bikes are curated both on urban roads and off roads. In addition, all of the e-bike models have an advanced framework, balanced design, high-quality bike components, and powerful motor and battery, making the Engwe electric bike brand a viable option.
A Quick Look To Engwe's Best Sellers: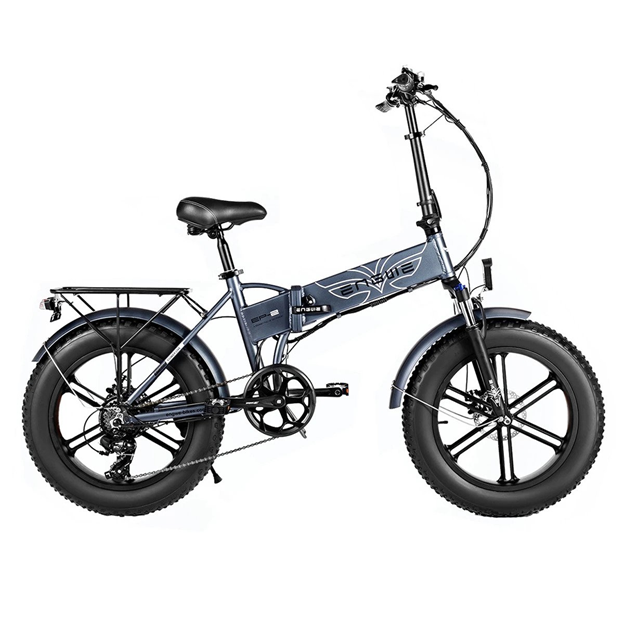 The Engwe EP-2 Pro has the perfect balance of powerful performance and ease of use. Given that this is Engwe's premium electric bike it's expected that this possesses premium quality construction and built to last usage.
A small folding electric bike but this is equipped with a powerful 750W brushless motor paired with a 48V 12.8Ah removable li-ion battery. Its max range can reach 50 miles and has a maximum speed of 28 miles per hour with pedal assist.
This e-bike has superb maneuverability because of the short wheelbase and the 20 x 4.0 fat tires which can stand out in all kinds of terrain. The frame is designed for all kinds of rides elders, kids, men, and women. Also, it's made of foldable aluminum alloy which is sturdy.
Among the other highlights are the 48V bright LED headlight, improved mechanical disc brake, and has 5 riding modes.
Specifications:
Motor: 750 Watts Brushless Gear
Battery: 48V 12.8 Ah li-ion removable battery
Maximum Distance: 50 miles with throttle and pedal-assist
Maximum Speed: about 30 miles per hour
Weight: 74 lbs.
Price: $ 1,399.99
A true and dedicated electric mountain bike (eMTB) brand for riders who seeks extreme adventures and who wants to conquer even the most difficult terrain. What makes this stand out is that everything about the construction, bike components, and reliability are remarkably great which eMTBs should be made of.
This brand is among the e-bike brands to watch out for because they know what they are doing. The company is outdoor enthusiasts and adventures seekers.
Although, the high price point is their weak point. However, the price is justifiable because of the premium quality you can get from them.
Also, this e-bike brand has become well-loved both by outdoor enthusiasts and seasoned outdoors people earning a great reputation.
Rambo Bikes specializes in their electric bikes in outdoor adventures which are fishing, hunting, camping, and commuting.
A Quick Look To Rambo Bike's Best Sellers: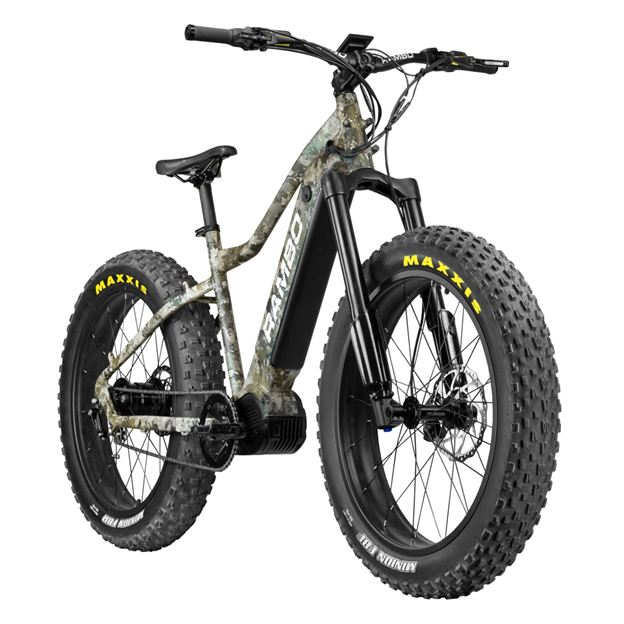 Rambo Bike's Venom model is probably among the top-of-the-line electric bikes on the market. It's built with impressive construction quality, a perfectly designed frame, and equipped with bike components with the latest innovation.
This electric bike is the bomb especially if you're looking for an excellent quality, high price point product. The driving force behind this e-bike is a powerful 1000W Bafang ultra mid-drive motor and paired with a long-lasting battery power of 48V 17 Ah. It's a behemoth that can take you even the harshest terrain.
What's more fascinating is that this is equipped with a 26" x 4.8" Maxxis Minion fat tire and Piston hydraulic brakes making this eMTB an unstoppable force. Added with 14-speed gear for smoother riding experience in almost every type of road.
Specifications:
Motor: 1000 Watts Bafang Ultra Mid Drive
Battery: 48V 17 Ah Li-ion battery
Maximum Distance: 40 miles
Maximum Speed: 15 miles per hour
Weight: 71 lbs.
Price: $7,999.99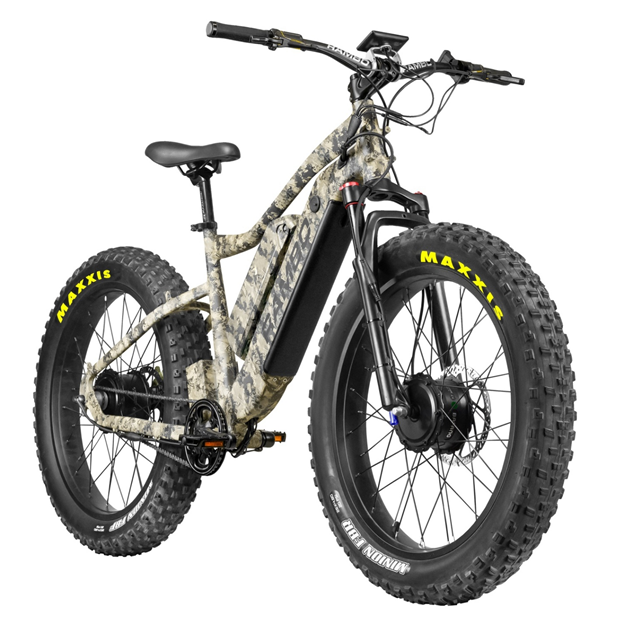 Another masterpiece from Rambo Bikes is the Megatron. This is one of that eMTB that ensures stunning performance and will never let you down because of the capabilities of the battery and power combined. That's why this is the ultimate go-to for extreme outdoor activities, especially for hunting.
Nothing can stop its powerful dual 1000W Bafang hub motor and loaded with 48v 34 Ah. As a result, this can reach 80 miles on ideal condition while it can run up to 30 miles per hour while this can go up to 80 miles. Even the most challenging road and far location can be achieved with this beast.
It's also important to mention the 4 piston hydraulic disc brakes which have great stopping power. The tires are Maxxis Minion 26″ x 4.8″ tires. The Megatron is your perfect companion if you're into an extreme adventure.
Specifications:
Motor: 1000 Watts Bafang Dual Hub Motor
Battery: 48V 34 Ah lithium-ion battery
Maximum Distance: 80 miles
Maximum Speed: 30 miles per hour
Weight: 77 lbs.
Price: $7,999.99
Conclusion
These are just some of the current best brands on the e-bike market and there are actually more electric bike brands that are worth mentioning both emerging and established manufacturers.
It's great news that the competition is increasing which is good for the economy and for people to choose a wider selection.
In addition, the innovation in electric bikes is worth waiting for as more manufacturers continue to develop and find ways to make these vehicles become more accessible to people.