Almost all of us have sat in traffic for hours at a time, especially in Rhode Island, where it's placed third among the worst roads in the United States. This is why Ebikes, also called motorized bikes, have become a common commuting option for thousands because of their simplicity, speed, reliability, and efficiency.
However, this doesn't mean that electric bicycles have free rein to be used around the city. Like any other state, even the state of Rhode Island has electric bike rules and regulations. Below are the important Rhode Island ebike laws you need to know.
How do Rhode Island bike laws define electric bikes?
According to Rhode Island Bill Text, a "motorized bicycle" is an electric motorized vehicle driven by a motor powered by an electrical motor and powered by a power source. E-bikes are allowed to use bike paths, bike lanes, and other traffic laws the same as regular bikes.
Here are there the specific e-bike definition:
"(a) Except as specifically provided otherwise in this section, an electric bicycle or an operator of an electric bicycle shall be afforded all the rights and privileges and be subject to all of the duties and provisions of this chapter relating to a bicycle or the operator of a bicycle."
"(b) An electric bicycle is a vehicle to the same extent as a bicycle."
"(c) An electric bicycle or a person operating an electric bicycle is not subject to the provisions of this title applicable to motor vehicles, including, but not limited to, registration, certificates of title, operators' licenses, financial responsibility, recreational vehicles, motor vehicle dealers, or commercial motor vehicles." Source: 2021 — H 5872
What are the restrictions on Motor power or throttle in Rhode Island?
The term electric motorcycle means a vehicle having no more than 1491w of electricity, a maximum velocity of 25 mph, or fully operable pedaling.
The three classifications of e-bikes
Like most states in the United States, the state of Rhode Island also adapts three-tiered e-bike classes which are:
Class 1 - A motor-driven bicycle that provides assistance only when the rider is pedaling and that ceases to provide assistance when the e-bike reaches 20 mph.
Class 2 - bicycle equipped with a throttle-actuated motor that ceases to provide assistance when the e-bike reaches 20 mph.
Class 3 - Class 3 e-bikes are equipped with a motor that provides assistance only when the rider is pedaling and that ceases to provide assistance when the e-bike reaches 28 mph.
Related topic: What Is An Ebike?
Does the state of Rhode Island require cyclists to wear a helmet?
Any person that is 15 years old and below is required to wear a helmet, whether as a passenger or a rider.
In case you or your child have been involved in a bike accident within the state of Rhode Island or in Massachusetts without a protective helmet, you are eligible and have the legal right to claim a personal injury against a negligent driver.
As per Laws §31-19-2.1, "in no event shall failure to wear a helmet be considered as contributory or comparative negligence, nor shall the failure to wear a helmet be admissible as evidence in the trial of any civil action."
What are the rules for riding on the trails in Rhode Island?
The Rhode Island Division of Planning Development currently has no access to bicycles for division trails. You may contact the department for their latest update regarding the rules.
Do you need a license, insurance, or special registration in the state of Rhode Island?
E-bike riders are not required to have a special permit, license, or registration in the state of Rhode Island.
---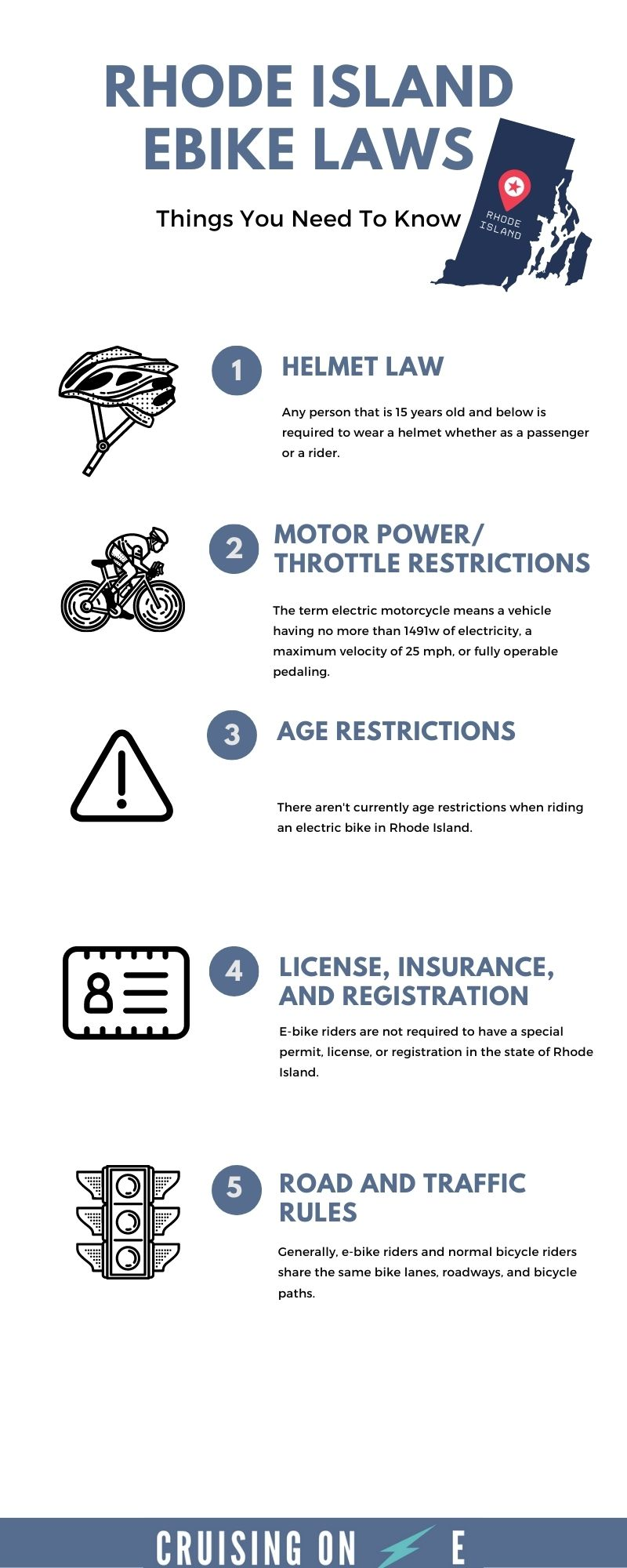 ---
Frequently Asked Questions:
Are e-bikes street legal?
Electric bicycles can be used on street roads in California without obtaining any permits or registration. The Electric Bicycle Driver may be under the age of 18.
Are electric scooters legal in Rhode Island?
Rhode Island has partnered with the Electric Mobility Initiative to launch its Electric Mobility pilot program. Scooters may be used for riding on sidewalks and streets, and the riders must keep their speed down and use their helmet. Generally, the drivers must adhere to all traffic regulations.
What are the best bike paths in Rhode Island?
Every local will probably tell what's the best bike trails or bike paths in their area which is the best source of information especially if you are a foreigner. However, if you don't know who to ask, we have listed some of the best bike paths on Rhode Island that are enjoyable to all sorts of e-bike riders, from beginners to pros.
A 4.7 km bike trail that offers scenic views such as lake view, forest, and wildlife creatures not to mention its calm environment. The Les Pawson Loop is great for all types of riders. Although, the area can have moderated traffic, especially during weekends and peak season.
South County Bike Path (also known as William C. O'Neill Bike Path)
This paved bike trail has a 12.5 km long path which is placed fourth among the longest bike trails in Rhode Island. This is great for training long-distance training and for touring practice. However, because of its paved path, its family-friendly bike lanes are great for any type of rider from beginner to advanced.
The East Bay Bike Path spans about 20.1 km from Providence to Bristol. It's ideal for any kind of cyclist due to its paved road and length. The trail offers a perfect view of the seaside and has a cool breeze during the morning and dusk. However, brace yourself when it's rush hour, weekends, or peak season because the bike path can be heavily trafficked.
Important Note:
All of our e-bike rules and regulations are based on each local state's e-bike laws. In addition, our information and details regarding these e-bike laws are not permanent and are subject to change especially when there are updates and missed out details.
We highly encourage that you check with local authorities or check the website of your State, County, City, and other agencies.
See more information about bike laws in every state with our article: Ebike Regulations State Specific