The Seattle-based Rad Power Bikes is among the well-established electric bike companies having top-level performance and superb quality electric bikes yet offering reasonably low price points, which puts them into one of the top-notch e-bike manufacturers globally.
This company makes wide-ranging electric bikes that fit most riding styles, such as daily commute, city bike, off-road trails, delivery, and cargo. What makes them distinctive from other e-bike is mainly the design and unique features it offers.
This article will cover each Rad Power Bikes Review that we think is a worthwhile product for every riding style from commuter electric bikes to electric mountain bikes (eMTB) based on our careful evaluation of the price, quality, and ease of use.
About Rad Power Bike Company
A high schooler in 2007 named Mike Radenbaugh changed everything from a simple converted bike to what we now know as one of the best electric bike companies in the United States and even abroad. It started from a simple conversion of a conventional bike to an electric bike as a means of transportation getting to and from high school.
Eventually, Mike became dedicated and obsessed with converting conventional bikes to electric bikes based on the rider's needs and riding style, leading to the founding of Rad Power Bikes. In 2015, Mike and his college roommate and childhood friend, Ty Collins, collaborated and brought their company to the general consumers relaunching their e-bike company as direct to consumer business, and the rest is history.
Currently, the Rad Power Bikes have a wide range of electric bike selections which fit in every riding style from simple city e-bikes to off-road e-bikes.
Rad Power Bikes Models — Functionality
RadRover — Off-road and Gravel electric bike
RadMission — Commuter and City electric bike
RadWagon — Family and Cargo electric bike
RadCity — Commuter and City electric bike
RadMini — Folding electric bike
RadRunner — City electric bike
---
Why Choose Rad Power Bikes Over The Other Electric Bikes?
Rad Power Bikes is an excellent brand given that it captured the consumers' tastes when it comes to individual riding styles. On top of that, this electric bike company has well-balanced factors such as affordability, great quality, and reliability making this a popular choice for the consumers and even some of our staff.
For me, what makes the Rad Power Bikes a worthwhile choice is convenience and overall riding experience. Because every e-bike model is catered to the specific needs of the rider it makes it comfortable for the customer to ride.
For example, if you are a daily commuter, the RadCity is your best option. However, if you are an adventure rider who loves to conquer hills and traverse rugged terrain, the RadRover is well suited for you.
Also, most of their e-bike units are equipped with powerful 500 watts to 750 watts of torque motors and longer-lasting batteries particularly the mid-range to high-range electric bikes, and yet it's an affordable electric bikes.
In addition, the Rad Power Bikes' design is also an added factor why their electric bike is worth considering compared to other competitors. Given its sleek design and easy-to-ride e-bikes especially their step-through frame allows beginners to get a good grasp on using the electric bike.
---
Are Rad Power Bikes Suitable For You?
Rad Power Bikes makes mechanical-driven bicycles that are continuously marketed and improved. Presently, they have around 10 bikes and their list is kept updated. Their equipment is mostly designed for commuting and mountain biking, which are also common recreational and fitness cycling applications.
The firm is looking to increase the electric bicycle business and meet a large number of customers around the world. The bikes are usually intended for commuting, mountain biking, and leisure cycling and are currently mainly suitable for recreation and fitness and are also released. Electric bicycles were released in Europe and Asia.
---
Overview Of Current Rad Power Bikes review models
Rad Power Bikes makes five unique electric versions. Three of these models are step-over models and step-through models.
They have main advantages including a low cost, functionality, and strong battery.
The main disadvantages are heavyweight and limited sizing with some models. What do the individual models have in common?
The affordability and excellent quality it offers to different e-bike riders as well as the ideal car replacement.
Here are some of our best-recommended Rad Power Bikes:
---
Best RadMission Electric Bike: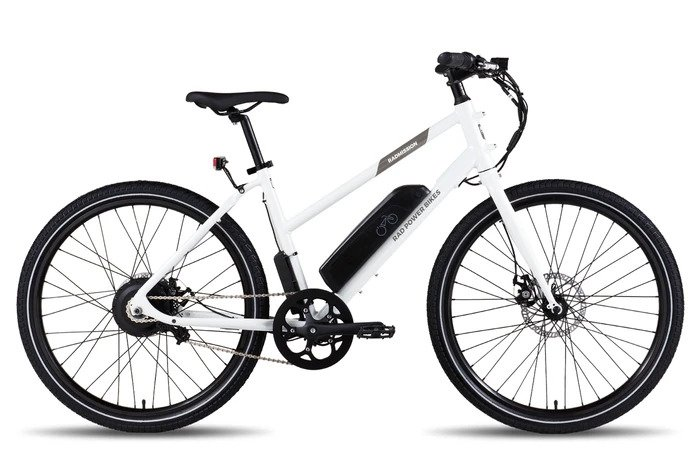 RadMission 1 is a single-speed electric bicycle built to simulate a fixie in both looks and utility. It is also equipped with front and rear brake lights for night rides and an easy-to-read electronic indicator with electronic brake levers and comfortable riser bars.
Powered by 500W Geared Hub Motor as the main driving force and loaded with high capacity 48V, 10.5 Ah battery.
This bike is $500 less expensive than the typical Rad power bicycle's model and 15 lbs lighter. It has a range of 25 up to 45 miles per hour with a pedal-assist or throttle support up to 20mph.
The RadMission 1 is a smooth and elegant bike available in five shade schemes two size bikes and two frames — step-over and step-in ones as standard. It's simple yet offers practical functionality that can get most of the job done.
For people who use their conventional bike for a daily commute or stroll on the city streets, it might be worthwhile to consider the RadMission 1 especially if you want an upgrade to an electric bike without breaking the bank given the price is $1000 but still gives you premium quality.
See our full review here.
Specifications:
Motor: 500W Geared Hub Motor
Battery: 48V, 10.5 Ah Lithium NMC Samsung 35e
Maximum Speed: 20 miles per hour
Maximum Distance: 25 miles but can reach up to 45 miles with pedal assist
Weight: 47 lbs.
Price: $ 1, 999.00
---
Best Rad Rover Electric Bike: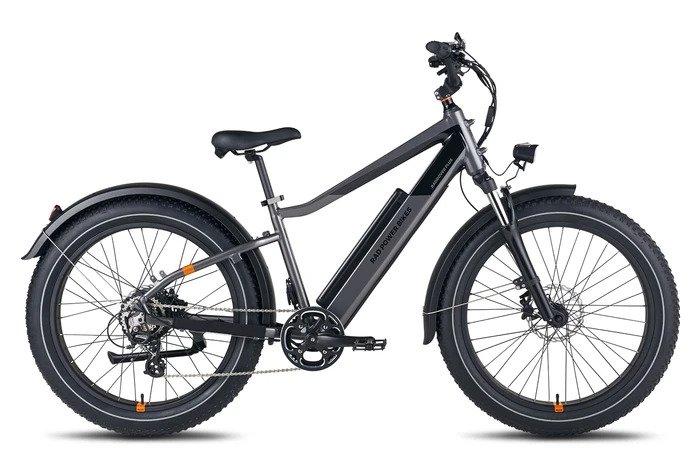 The Rad Rover 6 Plus electric bike was a huge success with enthusiasts in the outdoors. The new model is built on a very similar platform but it has better hydraulic disc brakes, a semi-integrated battery, a more intuitive user interface, and improved geometry.
The 48V 14 Ah 672Wh battery was overhauled and has now been installed inside the downtube. Shorter riders will be pleased to know that the geometry of this bike also changed the head tube and the seat tubes are now shorter as previously.
But what's more pleasing about the RadRover 6 Plus is that it uses 750W brushless geared hub motor which is great especially if you want to ride steep hills, mountain trails, rugged roads, and other off-road adventures that needed more torque power.
All of the other features include a 7-speed drivetrain, 60-mm rear suspension, battery-powered lights, steering wheels 26′′ x 4-′′ tire, and a handy kick.
During initial test runs, I like the stability, especially when riding on rugged surfaces. Also, the maneuverability in complex terrains is very convenient because of the improved suspension fork and the fat tire size.
Although this might not be the best e-bike for hunting or other extreme outdoor activities, the RadRover 6 Plus is still a great value for people who are on a low mid-range budget but want to try out adventures with a good quality electric bike on the market.
See our full review here.
Specifications:
Motor: 750W brushless geared hub motor
Battery: 48V, 14 Ah Lithium NMC Samsung or Panasonic 35E cells
Maximum Speed: 20 miles per hour
Maximum Distance: 25 miles but can reach up to 45 miles with pedal assist
Weight: 73.4 lbs.
Price: $ 1,999.00
---
Best RadWagon Electric Bike: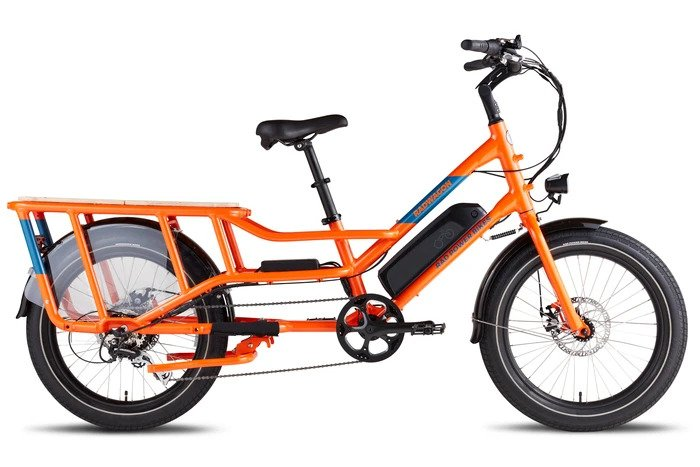 RadWagon 4 is the basic wagon in the electric bicycle world. The truck has a massive frame with a long wheelbase and is equipped with a large integrated rear rack that can quickly store two panniers full length.
It's made with a strong and sturdy aluminum frame, its rear hybrid hub, and a wheelbase-type kickstand. The 750watt motor can assist you at 20 mph and the battery provides you with 25 up to 45+ miles in range on one charge.
However, the shortcoming for this is the inability to climb steeper hills due to its heavyweight and design features intended mostly for even surfaces and a bit of uphill but beyond that, it can be a challenging task for this e-bike.
Rad Power Bikes thought about anything and made an amazing Electric Cargo bike which I think is one of their distinctive e-bike models in terms of unique design, quality, and utility use.
All in all, the RadWagon 4 is an excellent e-bike built specifically for family activities as well as for cargo and delivery. The only problem is the weight at about 70 lbs. but all in all, this is another great Rad Power Bikes model because it's easy to use and you can put numerous add ons just to fit your riding needs.
See our full review here.
Specifications:
Motor: 750W Geared Hub Motor
Battery: 48V, 14 Ah Lithium NCA 18650 Samsung 35E cells
Maximum Speed: 20 miles per hour
Maximum Distance: 25 miles but can reach up to 45 miles with pedal assist
Weight: 76.2 lbs
Price: $ 1,899.00
---
Best RadRunner Electric Bike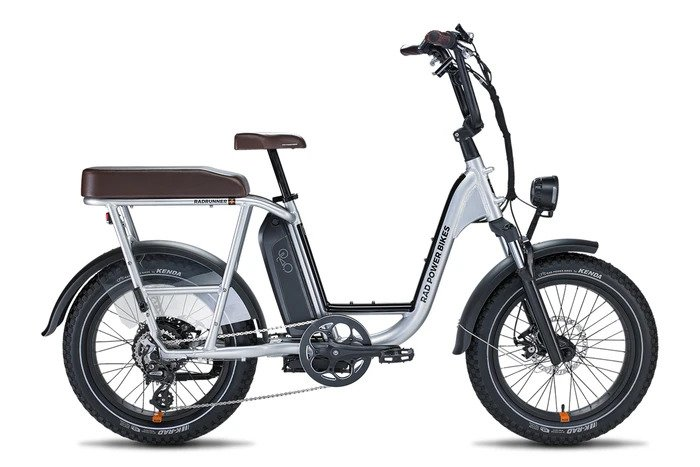 Radrunner Plus is a good choice for urban dwellers looking for just a single ergo cycle to ride every day from several miles to a dozen miles. It has a stiff and durable 6061 aluminum framework and a steel fork.
The steel handle lowers the price and it's one of the reasons why these models are $200 cheaper than the others. It has 20′′ wheels and is 3.3′′ wide. The motor is a 750W brushless geared hub and the battery has a large capacity and has 48V, 14 Ah.
These features alone give you convenient maneuverability and can go smoothly on city streets and even on paved roads. In addition, it can easily cope with curbs, potholes, and even dirt roads.
RadRunner includes mechanical disc brakes and a comfortable Velo saddle plus there's a skirt guard on the rear wheel. It features simple components and very few spare parts. There's also flexibility for riders to upgrade as they want.
Overall, the RadRunner is a fun electric utility bike that is suited for multipurpose use. Although off-road is not its strong suit. But this can work well and provide stability even on off roads due to fat tires. The brakes provide good stopping power.
See our full review here.
Specifications:
Motor: 750W Geared Hub Motor
Battery: 48V, 14 Ah Lithium Samsung 35E cells
Maximum Speed: 20 miles per hour
Maximum Distance: 25 miles but can reach up to 45 miles with pedal assist
Weight: 74 lbs
Price: $ 1,799.00
---
Best RadCity Electric Bike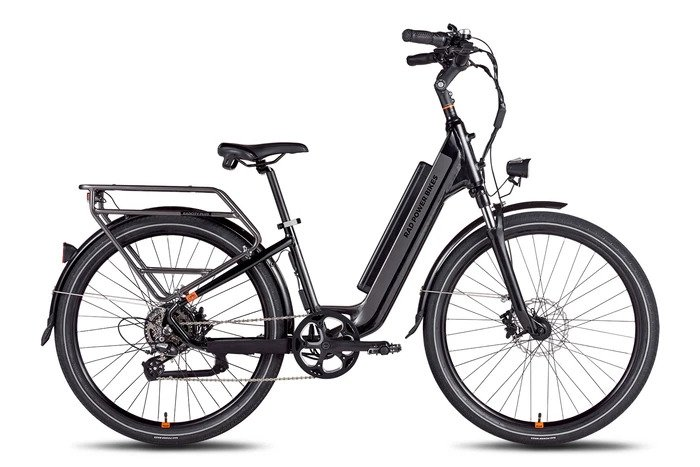 RadCity 5 Plus offers 11% more range, better brakes improved speed control, and a stronger, more flexible frame. This motor features brushless gearing at the rear wheel of the car so expect 40% more torque when climbing up steep hills.
What's fascinating about RadCity designs is how Rad Power Bikes elevated the overall design of the regular city bike into an electric city bike with modern touch which is so evident in every RadCity e-bike unit. Although you can see the classic designs such as the swept-back handlebars and step-through frames.
Like most top-end Rad Power Bikes, this e-bike has a high capacity battery having 48V, 14 Ah, and a strong driving geared hub motor that has 750W enough to power uphills and longer distances.
The drivetrain is unchanged — this tested Shimano Altus groupset provides you with 7 wide-range gears. At 280 pounds. With this size of a cart, you can carry groceries or carry a child in the cargo room without having to move the baby.
All in all, with these upgrades, Rad Power Bikes has transformed RadCity into a practical urban commuter motorcycle. Besides that, it's a well-balanced electric bike that can take small uphills on full throttle. It's a great deal and I think it's a commuter's dream to have one of these.
See our full review here.
Specifications:
Motor: 750W Geared Hub Motor
Battery: 48V, 14 Ah Panasonic 35E cells or Lithium Samsung 35E cells
Maximum Speed: 20 miles per hour
Maximum Distance: 25 miles but can reach up to 45 miles with pedal assist
Weight: 64.0 lbs
Price: $ 1,799.00
---
Best RadMini Folding Electric Bike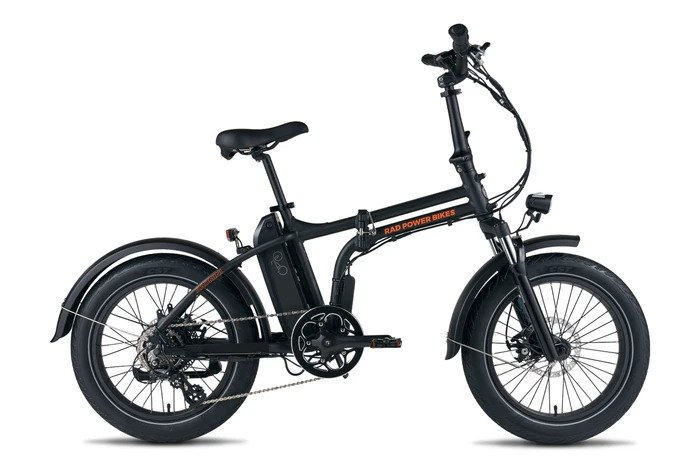 RadMini 4 is a small electric folding bike with 20′′ wheels and weighs ultra-small and can be easily taken to trains or store in a small room of your house. It has an aluminum frame with a mid-fold mechanism powered by a lever that is easy to release on.
It rolls 3.3′′ tall wheels and has a thickness that would be somewhere between a mountain bike and a fat bike. Powered by a 750 W motor and large battery capacity of 48V, 14 Ah (672 Wh), however, it's not just that.
Rad Power Bike's RadMini 4 may be small in build, but this electric bike can compete with any regular-sized electric bike whether you ride on the city streets or beaten paths, this is still powerful in many ways.
All models come with light, fenders, and a stand. If you want a small foldable bicycle with a power boost that does everything in one step, hence the Radmini 4 is on our recommendation list.
I've tried this on a short test run. It's a small folding electric fat bike yet it's very convenient to handle both on and off roads. Plus, the fat tires provide fewer bumpy experiences on uneven surfaces and off roads due to their size and air volume. It's also a great electric utility bike.
That said, RadMini 4 offers a pretty convenient riding experience as well as storing option because of the folding feature and overall small built. You might want to consider if you are a commuter that takes train ride and bus ride, and have small storage space.
See our full review here.
Specifications:
Motor: 750W Geared Hub Motor
Battery: 48V, 14 Ah Panasonic 35E cells or Lithium Samsung 35E cells
Maximum Speed: 20 miles per hour
Maximum Distance: 25 miles but can reach up to 45 miles with pedal assist
Weight: 64.0 lbs
Price: $ 1,799.00
---
Rad Power Bikes' Assembly
Rad Power bikes are electric and come with more arduous components compared to traditional bikes. The motor and the battery are attached when the bike is removed from its box.
If you don't have experience with riding before or don't know to assemble, you can even have a chat with their friendly customer representatives who are extremely helpful.
The electric bike models come with a tool kit that has all the necessary tools so you don't need to buy any special equipment.
If you can't assemble it on your own, have Velofix set up your bike at your residence, however, the additional cost to make is $199. They have offices in most cities within North America and operate in most areas of North America.
What's New To Rad Power Bikes?
As Rad Power Bikes continue to develop and bring convenience to its customers, this company has much exciting news to offer and among them is their incredible newly released RadRunner 2 Electric Utility Bike. It's much improved and better in terms of features, designs, and function.
The newly released electric bike has promising features and made a major improvement. It's totally customizable and Rad Power Bikes offers different accessories that are fully compatible with RadRunner 2.
We've also covered this new electric bike from one of our electric bike reviews and it would be great if you check it out.
Frequently Asked Questions
Where to buy Rad Power Bikes?
Rad Power Bikes can be bought directly through their official website. They are a direct-to-consumer in which they eliminate any middlemen and retailers which are the cause of higher price points. This is the reason why Rad Power Bikes have fairly low-priced electric bikes compared to other electric bicycle brands.
Are Rad Power Bike units good quality?
Yes. Besides having a very competitive price point, Rad Power Bikes is also among the best makers of electric bikes in terms of excellent quality and powerful performance. This is evident because in most e-bike reviews, there are Rad Power Bikes included and that includes our reviews. Besides that, over 17000+ riders have positive reviews regarding their electric bicycles.
How long does Rad Power Bikes last?
When it comes to range, most Rad Power Bikes can reach up to 25 to 45 miles per charge this can be achieved through rider size, pedal assist, throttle mode, and terrain.
The battery can last up to five years depending on the frequency of use. If you're regularly off-road riding, the battery may last up to 2.5 years.
Rad Power Bikes can last up to five years without changing parts this can be lessened or increased depending on the frequency of use and what type of terrain you usually ride. Although other Rad Power Bikes such as RadRover and other premium e-bikes can last longer.
Where are Rad Electric Bikes made?
The headquarters of Rad Power Bikes is located in Seattle, Washington USA. However, like most successful electric bike companies, they manufacture their units in China and other countries around Asia.
What Class is a Rad Power Bike?
Rad Power Bikes falls into class 2 e-bike because of their pedal assistance and throttle. You can use the throttle mode if you don't want to pedal and use it like a scooter or use it with the pedal-assist feature to supplement your cadence.
Our Thoughts On Rad Power Bikes
Rad Power Bikes never fails us whenever we put some of their electric bikes on the test. Generally, they are excellent electric bike that offers high quality in terms of design, performance, features, and innovation without maintaining their relatively low price point.
One of our all-time favorite e-bikes from this company is the RadCity model especially the RadCity 5 step-through. Because it's jam-packed with features and stunning design as well as performance. Riding this has never been easy.
We really think that the RadCity 5 is a great representation of the Rad Power Bikes because of the innovation, distinctive design, and overall performance which really makes this the perfect embodiment of the company.