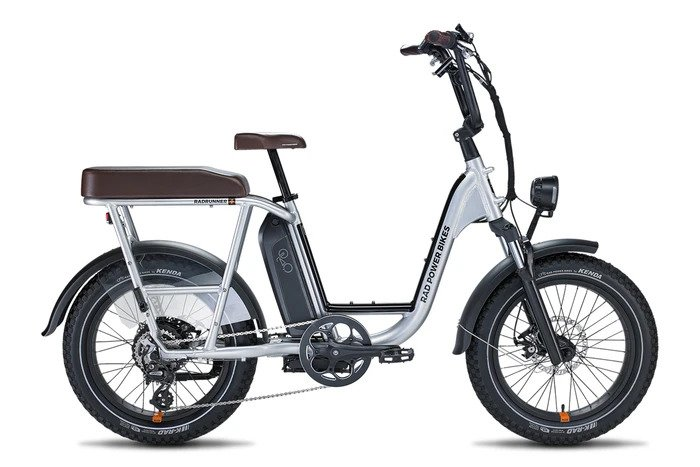 Rad Power Bikes unveiled its best electric utility bike just last year of March. Since then, it left an overall impression on customers due to its impressive features, performance, and its distinctive design.
Although this can't be compared to electric mountain bikes (eMTBs) or gravel electric bikes, however, the RadRunner Plus can be compared in terms of functionality and daily use. But is it really worth it for any rider?
I'll attempt to review the RadRunner Plus in-depth, comparison, as well as my riding experience. So, scroll down and see if this electric bike is compatible with you.
Rad Power Bikes RadRunner Plus Review: Overview
RadRunner Plus is a compact and intuitive class 2 of electric bicycles from Rad Power Bikes. It combines a well-thought-out frame design with a powerful 750W motor and a 48V 14 Ah battery that can fit any level of riding experience be it beginner or pro because of the versatile design and convenient maneuverability.
This e-bike is a good bang for your buck with a wide selection of available premium parts and features while still selling at a level with the Runner. What makes this a well-loved model is the multi-functionality use that can be used for passenger or cargo e-bike delivery and even other electric bike reviews include this e-bike as among the best electric bikes you can buy.
Besides that, the battery life is impressive and it's equipped with a powerful drivetrain for a smoother riding experience. However, there is more to add to this incredible electric bike.
The 750W hub motor of the RadRunner Plus is it impressive?
Its 750w and 80nm of torque can help power you up steep climbs and get you to a top speed of 30 mph. And has. Numbers such as these are not available even on the most expensive mid-drive e-bikes out there which for the price of this bike is staggering.
I've also noticed the added power while loaded with things and riding it on high-elevation roads. It's easier to climb and I haven't encountered any problems while going uphill. This RadRunner Plus is probably the direct upgrade version of the Radrunner and it surpasses its motor performance which is fantastic.
That said, RadRunner Plus' 750-watt motor has powerful torque that can assist you on steep hills as well as for cargo deliveries while using pedal assistance.
RadRunner Plus Design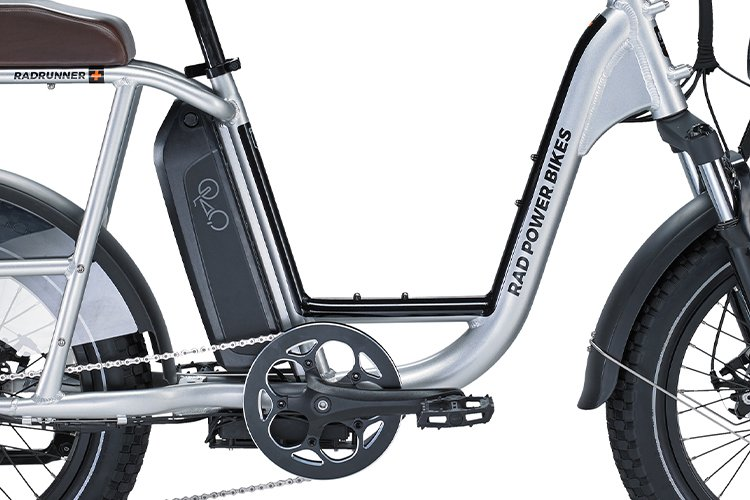 This model still retains most of the design from its RadRunner bike predecessor. It's a moped-style e-bike with a step-through aluminum frame design and it's only available with only one frame size.
It features an adjustable driver's seat to fit any rider both shorter and taller riders while feeling comfortable during e-bike rides.
Among the accessories featured are the clear protective wheel skirt, passenger package, elegant leather seats, and many more.
Rad Power Bikes RadRunner Plus Performance Review —
Is It Worth It?
The RadRunner Plus 750V engine has ample energy which only takes a handful of sec to reach the top speed of the motor-assisted bike at 20mph when turning the throttle or pedaling.
The acceleration performance seem quite good for riding around downtown where I was constantly stopping off at intersections and weaving through alleyways.
It pedaled decently despite its weight reaching 93 kilograms. Part of that is the sheer inertia it carries rolling. The speed limit on the bike is 20 mph but it will reach 20 percent for most roads where there is no steep hill.
RadRunner Plus' Power Output: battery power and battery life; A powerful 48V, 14A battery
48V 14 Ah lithium-ion charger can carry 45 miles on a single charge and reach a maximum speed of 20mph. At just 7.7 pounds the RadRunner Plus battery is also one of the lighter and most energy-dense packs on any electric bicycle.
The battery lasts between five and six hours to fully charge and it will retain its charge long before you need to use your bike.
They also sell batteries in individual packs individually on the Rad Power Bikes website which means you can buy a spare especially when you are riding longer.
The RadRunner Plus' LED control panel with battery charge indicator and adjustable power-up indicator
The LED control panel has gotten a great upgrade. It's more readable even if there's direct sunlight, especially in shaded areas. The display function is quite easy to use and keeps you informed while you are riding. These include odometer, battery indicator, pedal assistance level, light indicator, and more.
In addition, there is a 5 volt, 1 amp USB charging port for your mobile device while you're on the go. For safety, this features brake light activation.
Power eBike LED Lights: Can be seen at night with included lights
The RadRunner Plus e-bike has standard LED lights and its headlamp has an ambient light sensor enabling it to dim or brighten automatically.
There is also an integrated brake light with a strobe which improves safety on highways or when riding outdoors.
The rubber tire also has reflective details that keep you in the view from the front. All in all, the LED lights of this e-bike is bright enough to be seen by pedestrians and motorist coming behind and in front of you.
Are the handlebars of the RadRunner comfortable?
The RadRunner Plus eBike has flattened shapes at the ends of both handgrips. Its flat form allows you to rest the palms securely inside the handlebars. The grips will allow you to twist the throttle with ease without any strain or force used.
Rad Power Bikes Passenger Package
RadRunner is the first E-bike or scooter with adjustable steering. The chair can be made either tucked behind the seat of the passenger or mounted at a higher height than a basic electric bicycle. I like to ride in the passenger seat alone, hence I put my seat in the lowest position.
I really like how the side-seat RadRunner model looks like a vintage motorcycle due to its aesthetic appeal. If these accessories are useful to you consider purchasing RadRunner Plus which comes with most of these accessories but can also be used for an upgrade on Rad power bikes.
The RadRunner eBike does not have suspension forks which is a problem
The ride is solid because the body lacks an axle. The only cushioning comes from the tires and a saddle that feels comfortable for long trips. For much smoother performance, however, you should maybe see Roadrunner ebike upgrades called the RadRunner Plus - here's a little more about why this bike could be worth checking out. RDA: The electronic.
What is it like to ride the Rad Power Bikes RadRunner Plus?
The RadRunner Plus has great maneuverability and performance, especially on smooth roads and even on a hill climb. Thanks to the 7-speed drivetrain.
Added to that are the fat tire size and fork suspension making this e-bike access even off roads in which I haven't encountered any bumpy feels while hitting the paved paths. Also, the pedal assistance is really helpful especially when you are climbing harder trails.
I've also tried this with a passenger. I like the payload capacity which doesn't give me any difficulties while I have a passenger.
The RadRunner Plus still provides some decent stability to make sure the e-bike is still balanced. No doubt that this is designed for both passenger and cargo making this among the best Rad Power Bikes designed very well.
My overall impression while riding this is very satisfying. I like the major improvements especially the drivetrain compared to the base model that has equipped only with a single speed. This gives smooth transitions whenever I want to shift gear for a smoother riding experience.
For alternative riding experience, you can try the best folding electric scooter for adults.
How stable is the RadRunner Plus bike than other electric bikes when riding on different surfaces?
RadRunner Plus uses Kenda tires K-Rad 20-inch x 3-inch wheels to provide predictability and ground feel.
Fat tires on a Radrunner Plus e-bike are very stable on pavement and dirt trails. K-Shield wheels and sprockets offer loads of comfort while you ride even at high speeds.
It's very stable for a bike that turns a better band can slide out during a corner. The Kenda tires and the fork suspension are a great help for this electric bike.
To know more about Rad Power Bikes, check our Rad Power Bikes Review article.
RadRunner Plus Electric Bike Optional Accessories
Rad Power has an extensive range of power accessories for your electric bike. It has 64 different products available in nine categories at its online store. This wide array of selections will definitely add some personality to your RadRunner Plus e-bike.
RadRunner Quick Specs
Motor: 750W Geared Hub Motor
Battery: 48V, 14 Ah Lithium Samsung 35E cells
Maximum Speed: 20 miles per hour
Maximum Distance: 25 miles but can reach up to 45 miles with pedal assist
Weight: 74 lbs
Price: $ 1,799.00
Final Thoughts - Rad Power Bikes RadRunner Plus Review
The RadRunner Plus electric bike is an excellent value and versatility. The compact size makes it easier to fit into elevators and apartments. The mid-size tires make it stable and give comfort in addition to off-road capabilities.
I love the overall riding experience. However, the only downside for this is the heavyweight which can be a challenge when you have a passenger on the back which decreases your speed and power, draining the battery life faster. Other than that, I can't think of any disadvantages while riding this e-bike.
The optional passenger kit includes a padded pad for a back cover, a pair of pegs, and a skirt guard so you can carry passengers as heavy as 120 pounds.
The motor is at 750 Watts Continuous Power (U.S.) which is the legal limit. The Canadian motor can run 50 W and the Euro 500W is set to the standard 350W in order to respect regulations. The price point is $ 1,799.00 which makes this among the most expensive Rad Power Bikes models.
Did we miss something in our Rad Power Bikes RadRunner Plus Review?