Obeying the law is an obligation of every citizen, and it's a way to make sure everyone is responsible and disciplined. This also applies on the road, particularly in electric bicycles, to ensure there's an order on the road and prevent any accidents.
That said, knowing the electric bike laws in your local state is crucial. So if you're wondering what are the Kentucky state's bicycle regulations, this article has information about laws such as helmet laws, e-bike bills, and state traffic laws, to name a few.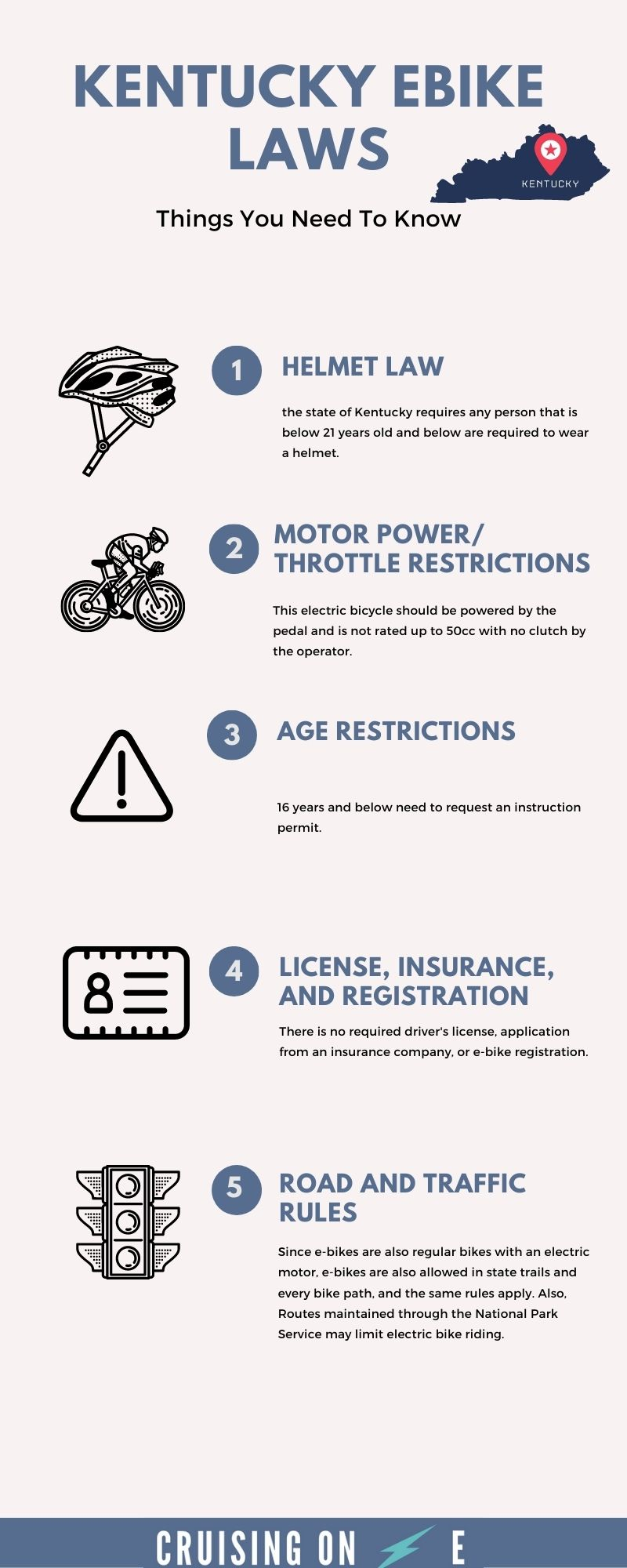 What's the definition of electric bikes in the state of Kentucky?
Kentucky ebike laws define electric bicycles the same as normal bicycles. Means it's operable for both human and motor power using pedal assistance. Also, e-bikes share the same rules and regulations as normal bikes.
Registration, license, and insurance requirements — Is it needed in Kentucky?
The state of Kentucky doesn't require a person to have insurance, license, or registration requirements. However, a person that is 16 years and below is required to have an instruction permit.
What are the restrictions on Motor power or throttle in Kentucky?
This electric bicycle should be powered by the pedal and is not rated up to 50cc with no clutch by the operator.
Are there any age restrictions in Kentucky?
There are no age restrictions in the state of Kentucky. However, as mentioned earlier, any person that is below 16 years and below is required to have an instruction permit for them to operate electric bicycles.
Helmet requirements
Almost 25% of U.S. states have mandatory safety requirements for riders on bikes. Most riders are younger than 20. Nevertheless, 25 states lack safety helmet protection.
The majority in the US is in favor of implementing legislation regarding electronic motorbikes, including California, Idaho, and Illinois. Twenty-three states now allow cyclists and e bikers to use helmets at less than 12 years old to use their bicycles, which are considered unsafe to use.
However, the state of Kentucky requires any person that is below 21 years old and below are required to wear a helmet.
Federal role, definition, and action
A 2002 act from Congress formally changed consumer goods regulations on bicycles. The law defines a low-speed electric bicycle as a two - or three-wheeled vehicle with fully operable pedals and an electric motor of fewer than 750 watts (1 h.p.).
The federal law only specifies the maximum speed at which the electric vehicle is It can't offer maximum acceleration while the motor is driven by both humans and motorized vehicles. In fact, most states are using the same legislation to categorize scooters and bikes as mopeds and other mobility units.
Other State Ebike Laws
The laws in various other states can be quite different than the ebike laws in Alaska. Check out these other articles about Florida E-bike Laws, Arkansas Ebike Laws, and Delaware Ebike Laws for detailed information about each of these states' specific ebike laws.
Frequently Asked Questions
Are Ebikes legal in Kentucky?
Laws of the local area are sometimes changing. In Kentucky, electronic bikes are deemed "bicycles" when accompanied by operable pedaling and when operated with combined human and electric power. Similar traffic rules are used on bike vehicles and humans. The electronic bike can now travel on streets or on bike paths.
Are 1000W Ebikes legal?
Six States provide maximum motorized bikes in this range of 100W or more: Alabama, Florida, Oklahoma, Oregon, Virginia, and Kentucky. In Florida, the limits do not exist for all motorized vehicles. Check your local state's website for comprehensive laws pertaining to electric bicycles.
What are the best bike trails in Kentucky?
Kentucky is the ideal location for biking because of the vast green pastures far as your eyes can see, the peaceful waterways, and the scenic mountain views. So if you're going to spend around the state, check these best-recommended bike trails for a fun and unforgettable experience.
Located within Daniel National Forest, the Redbird Crest Trail system is a loop bike trail spanning 54.6 km, which is a hidden gem bike spot both for electric bicycle riders and riders of traditional bikes. It's moderately trafficked, and it's surrounded by forest. This is great for endurance workouts that will push you to the limit because of the complex trails it offers.
The Brier Creek Trail System is another great bike trail for both electric bicycles and traditional bicycles who want to flex their leg strength. It has a total length of 14 km. This features a waterfall and the environment is extremely peaceful and surrounded by wildlife. The trail is also ideal for hiking trips and nature trips.
Yost Ridge Trail - Lake Mitchell Trail Loop
The best way to enjoy your bike activities in Kentucky is to spend it on Yost Ridge Trail - Lake Mitchell Bike Trail. This is a loop trail and spans only 5.5 km. Great for all kinds of riders, from beginners to advanced, and even children can enjoy riding an e-bike here. It has a nice lush green tree scenery and a small lake. Although this can become a heavily trafficked place during peak hours.
Don't forget the rules of the road
Because e-bikes can use the same bike lanes and be treated as traditional bikes, laws applied to normal bikes applies also to electric bicycles even rules of the road. So knowing the rules of the road can save you from accidents and help you become a responsible rider while on the road. Below are some of them:
Be Predictable - When on the road, make sure you ride straight on the line and use hand signals whenever you're turning, passing through, or need emergency attention. Don't let the pedestrian, a vehicle, or a fellow driver guess what you're going to do on the road.
Always be alert - While on the road, make it a habit always to be aware of your surroundings. Make sure you anticipate a pedestrian or a rider to and fro. Also, always keep an eye on potholes, cracks, bumpy roads, and bicycle paths. Don't wear an earphone while riding an e-bike which can decrease your level of alertness and can cause an accident.
Know the law if you're taking the sidewalk path - Not all states in the United States allow e-bikes or normal bikes to ride on the sidewalk. Be sure to know the local regulations within your area, so you don't have to worry about getting violations.
Important Note:
All of our e-bike rules and regulations are based on each local state's e-bike laws. In addition, our information and details regarding these e-bike laws are not permanent and are subject to change especially when there are updates and missed out details.
We highly encourage that you check with local authorities or check the website of your State, County, City, and other agencies.
See more information about bike laws in every state with our article: Ebike Regulations State Specific