A new wave in automotive technology involving electronic motors has begun; in other words, electric bikes have recently grown in popularity, especially in Connecticut. Many people who use electric bikes are unsure about their legal rights for their operation or don't comply with certain regulations for their use. But what are the Connecticut Ebike laws?
Because electric bikes are motor-driven, they may differ in rules and regulations compared to regular bicycles. That said, if you're not sure what the state of Connecticut's restrictions for e-bikes are, this article should explain some of Connecticut's Ebike laws.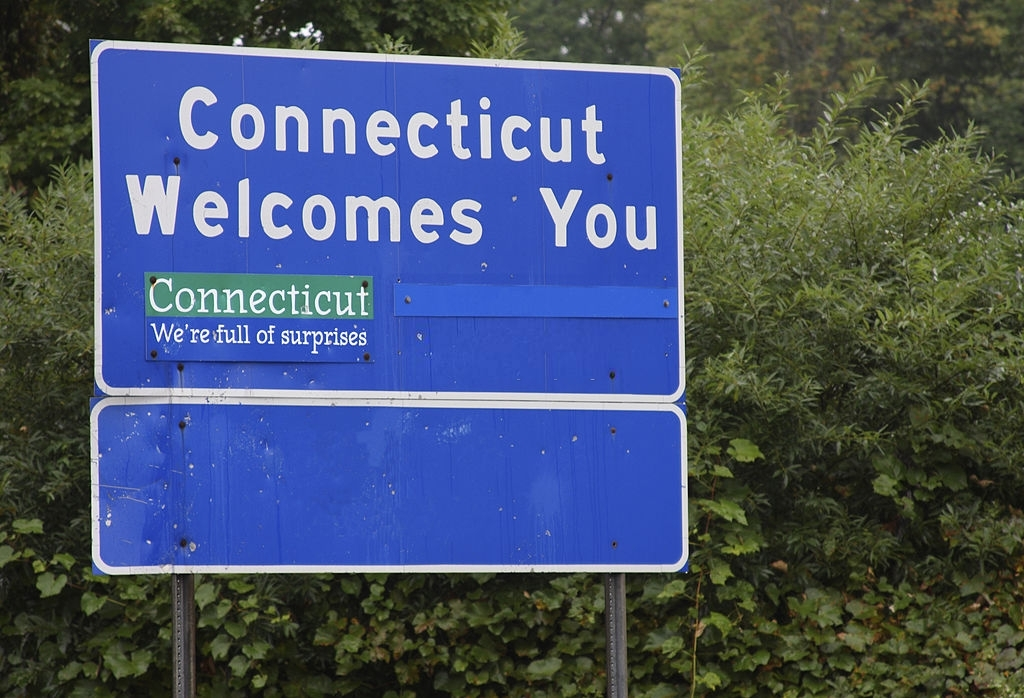 Electric Bike Classification In Connecticut
Connecticut follows the three-tier classification system of Ebikes that is followed by more than half of the states within the US. Electric bikes are classified as "motor-driven bicycles" and must have an electric motor of fewer than 750 watts. Further, the bicycle brakes must stop the motor power when they are applied.
Class 1 electric bikes are pedal-assist only. Electric-assist ceases at 20 mph.
Class 2 electric bikes can be throttle driven as well as pedal assist with the same 20mph power restriction as class 1 e-bikes.
Class 3 electric bikes can be throttle driven or pedal assist but have a higher speed threshold of providing power assistance up to 28 mph.
Registration, license, and insurance requirements
States that use three-level classification typically exclude e-bikes for registration, although e-bike registration and licensing are required in some circumstances.
Connecticut does not require a driver's license or registration for the operation of an e-bike within Connecticut. That said, specific towns, cities, or boroughs' may have their own civic restrictions as long as they do not directly oppose the state ordinance.
E-bike operation on multi-use paths
One restriction on e-bikes in Connecticut that is different from various other states is that electric bicycles are not allowed on bicycle trails, bike paths, or multi-use trails. Electric bikes may not be ridden on trails designated for non-motorized use as well.
Electric bikes are not allowed to be ridden on sidewalks and may have limited access on high-speed highways and turnpikes. If the maximum speed of the road is higher than the sustained maximum speed of the Ebike then it must use the right-hand lane or be ridden on the shoulder where applicable.
Other State Ebike Laws Near Connecticut
Some states near Connecticut have very different ebike laws. Be sure to check out our articles on New York State Ebike Laws, Virginia Ebike Laws, and Massachusetts Ebike Laws if you are planning a trip with your ebike to these neighboring states.
Check out our article linked here to learn more about the overall US federal ebike legislation and laws.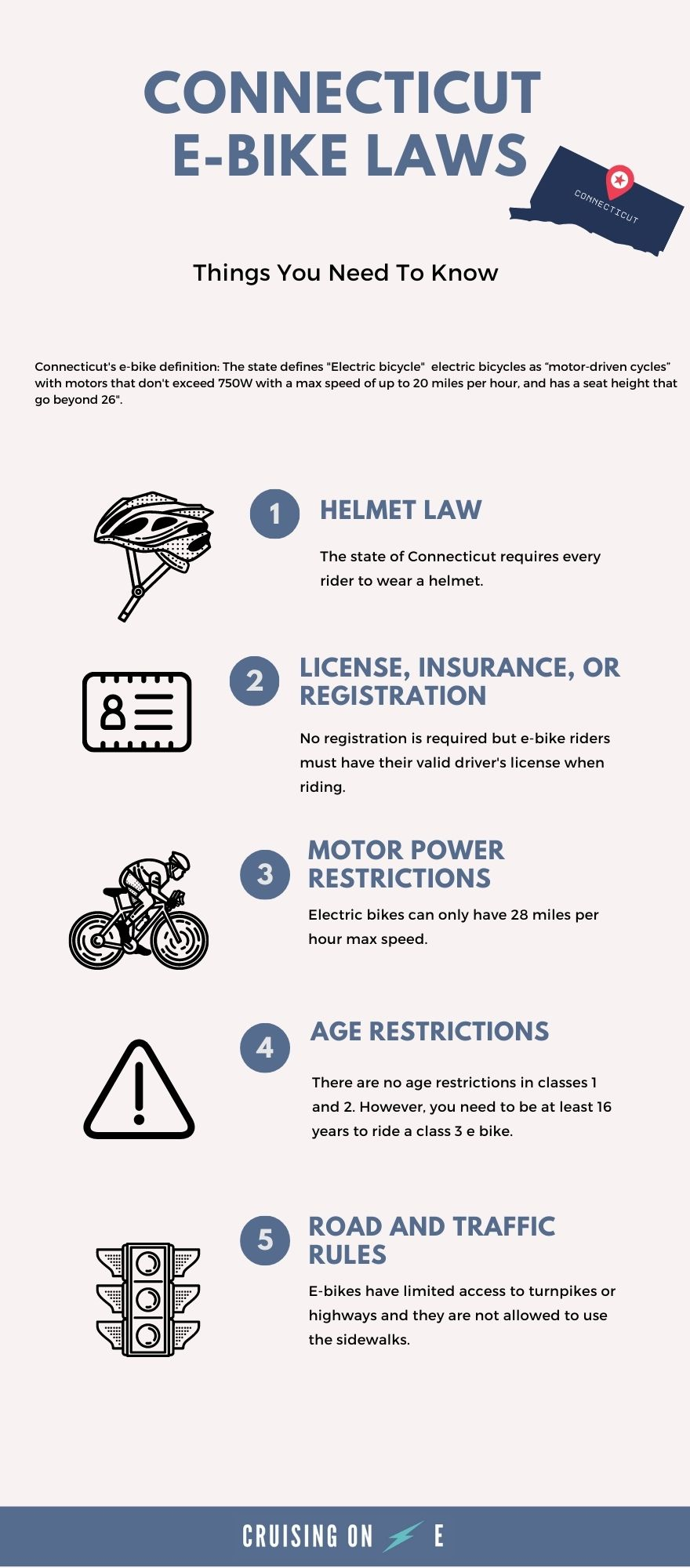 Additional General Connecticut Ebike regulations
Connecticut ebike laws also state that electric bicycles must have a white light on the front that is visible up to 500 feet away. Additionally, it must have a red reflector on the rear that is visible over 600 feet away when in the low beam headlights of standard car lights.
Lastly, the ebike must either have a reflective surface on both sides allowing for visibility over 600 feet away under standard car low beam headlights OR be equipped with a white light on each side that is visible over 500 feet away.
Additional Links And Ebike Information For Connecticut
The connecticut government website has a ton of additional information about bicycle riding, bicycle trails, and bicycle safety tips that are also applicable for electric bikes.
Connecticut Interactive Bike Map
Pedestrian And Bicyclist RSA Guide
Conclusion
Going for a ride on your ebike in Connecticut should be a fun and safe activity for all people, young and old alike. By ensuring you are aware of the rules and regulations for riding your Ebike in Connecticut you can ensure your next ride will be a good one!
Important Note:
All of our e-bike rules and regulations are based on each local state's e-bike laws. In addition, our information and details regarding these ebike laws are not permanent and are subject to change, especially when there are updates and missed out details.
We highly encourage that you check with local authorities or check the website of your State, County, City, and other agencies.