Delivery businesses and other companies nowadays are shifting to e-bikes, and the best way to deal with it is to invest in the best electric bikes for your delivery services. Given that electric bikes are more efficient, economical, and swifter than normal bikes, motorcycles, and cars, they will give you the advantage of delivering food in no time. It's a no-brainer to invest in the best electric bike for food delivery.
Many electric bike companies are very competitive. We've carefully researched and tested some of the e-bikes making sure it's worth your experience. In this article, you will get an insight into the best e-bike for food delivery on the market.
Best electric bike for food delivery — Our Top 4 Recommendations
---
Cheapest yet great quality electric bike
· Powered by a large battery 36v lithium-ion battery
· Low-step frame design and great construction quality
· Geared with efficient 350-watt geared hub motor
The Heybike Cityscape is an excellent e-bike for deliveries and as a commuter electric bike. Mainly built for urban roads due to their features and design. Geared with 350W brushless geared hub motor making it an optimal riding experience for fast and efficient deliveries.
Simple yet elegant design that will get your job done. With its low-step frame design, well-cushioned saddle, and handlebar swept-back style, the Heybike Cityscape is so easy to use and offers you comfortability while riding throughout the day.
Featuring a Shimano 7-speed that gives you a wide range of gearing even for an uphill climb. This e-bike has a 360Wh modular battery which can take you up to 25 miles at a max distance while purely on electric mode. Added with dual shock absorber for stability smoother ride. There's also dual light and an improved brake system for added safety.
What's more to this e-bike is that it has a rear rack so you can load your cargo. You can even attach a platform or a basket for extra space. The Heybike Cityscape Electric Bike is well suited for food delivery services and even as a cargo e-bike in an urban setting with its good quality and reasonable price.
Specifications:

Motor: 350W geared hub
Battery: 36V, Lithium-Ion
Charging Time: 5-6 Hours
Maximum Speed: 19 mph
Maximum Distance: 25 mi
Weight: 72 lbs.
Price: $849.99
---
Most powerful electric bike for complex terrain
· Better shock absorption for rugged terrain
· Features 26 x 4.0 fat tire with non-slip and wear-resistant
· Can reach up to 31 to 43.5 miles even with complex terrain
If you're looking for a well-rounded e-bike, then the Aostirmotor electric mountain bike is something to invest in. It has the right balance of comfortability and ease of use built for everyday use, even in complex terrain.
This e-bike is powered by a powerful battery 48V 13Ah lithium-ion and paired with high performing 750W rear hub motor. Topping with 25 mph max speed can go for about 31 to 43.5 mi at best. In addition, this features a multi-functional display with a USB port to meet the rider's needs.
The fork is built with a shock absorption suspension system that will work even on difficult terrain. Equipped with a 26 x 4.0 fat tire that features wear-resistant and non-slip for a smooth ride which is great for snow and sandy terrain.
With its relatively high-power motor, great battery power, and design, the Aostirmotor Electric Bike 750W is one of the most astounding e-bike delivery of its reasonable price and overall great quality.
Specifications:

Motor: 750 geared hub
Battery: 48V 13Ah Lithium-Ion
Charging Time: 4-6 Hours
Maximum Speed: 25 mph
Maximum Distance: 31 to 43.5 mi
Weight: 72.7 lbs.
Price: $ 1,299.00
---
Has the overall best design and is suitable for distant places
· Strong driving 7-speed e-bike
· Very appealing vintage design
· Has removable 48V 12.8 Ah lithium-ion battery
A combination of sleek vintage design and the best technological features and you have the MZZK City Electric Bike, which might be the perfect e-bike. It's quite similar to the Heybike Cityscape; however, this is more appealing in terms of design.
This e-bike has a 500W brushless geared motor and provides power up to 75 miles when charged fully with pedal assist reaching 25 mph as a max speed. It's powered by a removable 48V lithium-ion battery. Also, it has 7-speed gear, which is great for fast and efficient rides.
The frame is a mode of sturdy aluminum alloy frame and fork. It has electric and pedal-assist modes giving you options for riding style. With reliable Shimano shifting system allows you to choose your preferred speed while shifting smoothly.
For its low price yet great quality, the MZZK City Electric Bike offers a stunning performance paired with a vintage aesthetic that is great for everyday commute and an excellent food and cargo bike delivery option.
Specifications:

Motor: 750 brushless geared hub
Battery: 48V 12.8 Ah Lithium-Ion
Charging Time: 4-6 Hours
Maximum Speed: 20 mph
Maximum Distance: up to 74 mi
Weight: 68 lbs.
Price: $ 1,098.00
---
Very well-rounded electric bike
· Packed with a large 36V lithium battery
· Includes removable rear and a front rack
· Front fork has improved coil suspension
For delivery, the excellent electric bike should have rack support for proper goods storage and convenience. Also, it must have a powerful motor and a better gear shift system, especially for everyday use. And we think the Casulo Electric Mountain Bike is the best option for foodservice delivery.
Among the notable features is the well-rounded design that is good for off-road and city roads. Because of front fork coil suspension and 7-speed gear, allowing you have a comfortable and adjustable ride. You can go up to 20 mph at max speed and can take you up to 24 miles on full electric bike mode.
Another noteworthy highlight is the 26 x 2.1-inch fat tires which give you to ride both off-road and on city streets. There's also a bright headlight for a safer ride at night. In addition, it has 3 pedal-assist function modes, regular pedal and pure electric bike mode.
If you're looking for an electric bike capable of dealing with fairly rugged and leveled roads, you might want to consider the Casulo Electric Mountain Bike. It's less than a thousand bucks and definitely worth investing, especially for food deliveries.
Specifications:

Motor: 350W rear hub
Battery: 46V 10.4 Ah Lithium-Ion
Charging Time: 4-6 Hours
Maximum Speed: 20 mph
Maximum Distance: 24 mi
Weight: 24.7 lbs.
Price: $ 845.99
---
Questions To Consider When Buying An Electric Bike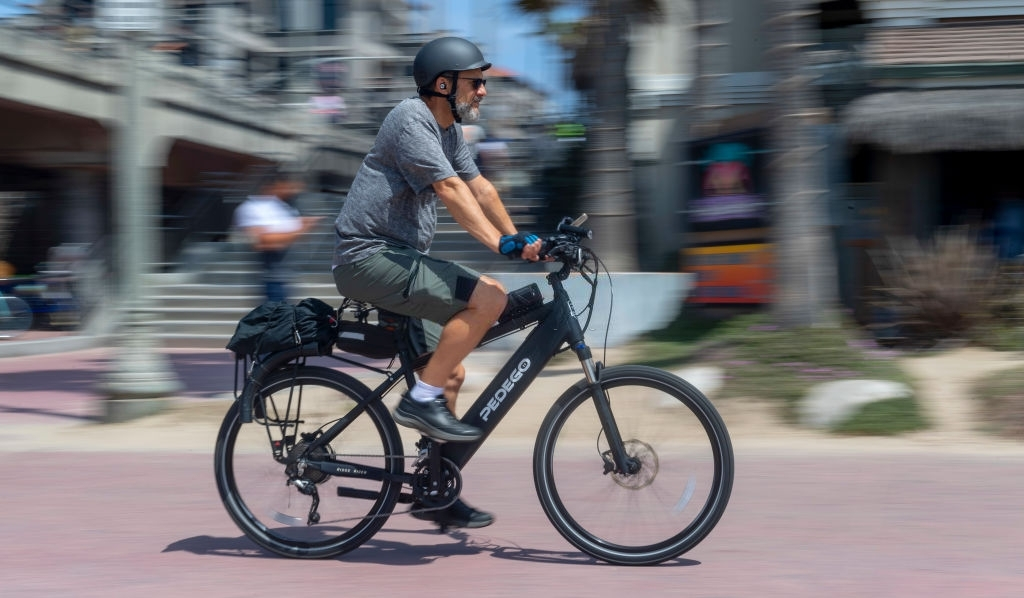 Maybe you're a delivery rider or business owner, and you're really into buying an electric bike. It's a good starting point if you're considering investing in electric bikes, especially in delivering foods, given that other food delivery service companies such as UberEats and Deliveroo and others are adapting to e-bikes because it's convenient cheaper, and eco-friendly.
However, before you consider buying, you must ask yourself first and figure out what ideal electric bike for delivery is good for you.
Here are some of the questions you might consider that is important when choosing an e-bike:
What's the average load weight you can carry or store?
Determining your average payload can help you pick a suitable e-bike for you. Some electric bikes let you attach a platform, a basket, or a rack that carries your excess load with ease and comfort.
You might want to check the Casulo Electric Mountain because it comes with a front and rear rack, which is great for groceries, excess load, and delivery service.
How far do you usually go when delivering?
Depending on the electric bike class you choose, you can go up to 60 miles at a maximum distance. With that kind of reach, it's sufficient to cover your delivery routes for a day. Also, you'll need a powerful motor and a long-lasting battery for efficient delivery work.
If you are looking for an electric bike capable of reaching greater distances, we recommend the MZZK City Electric Bike.
Do you normally ride in an urban setting with the leveled ground or do you rise sometimes on the rugged road?
Although most delivery businesses only service urban places with paved paths such as city streets and asphalt roads. However, there will be instances where you will experience rugged roads, especially when there are roadworks or crossing railroads where there are gravels.
Examining what type of terrain you usually ride can easily answer this question. If you're riding around urban roads, better to choose e-bikes that are designed for a city bike. If you're riding on rugged terrain, you should choose e-bikes with full suspension and have fat tires.
Also, keep in mind that there are also different classes of electric bikes, and it's best to carefully look into them first so you will end up buying the right e-bike for you.
How easy are electric bikes to ride and store?
This question is about how easy electric bikes are to use and how easy it is to maintain. Fortunately, most modern e-bikes have relatively low maintenance costs, easy to repair, and are simple to learn as if you're riding a manual bike.
That said, if you want an electric bike that is easy to use, you could consider the Heybike Cityscape Electric Bike. Because it has a low-frame build and a swept-back handlebar, making it an ideal use for ready-to-go situations.
Buying criteria for an electric bike for food delivery services
Also, when you're buying an electric bike for your food delivery business or as a delivery rider, you should pay attention to some important factors first. This will ensure that the e-bike is well suited for your, so you won't regret buying it.
Below are some buying criteria you need to know before buying an electric bike:
Power
Power depends on your bike's purpose or what you plan. For the delivery of e-bikes, you must select a high-performing battery power. Go for more durable alternative battery types from 350W to 1,000W lithium-ion batteries. Most users report that the need for power is important in an electric bike. The more battery power you have, the longer your e-bike will last on a single charge.
Cost
Some of the best e-bikes can be very expensive, which lets you choose a reasonable bicycle option instead. Many people assume that the more expensive the price, the better the quality you can get. That may be true, but there are also electric bike models that offer affordable prices with decent quality and with great performance. If you refer to our e-bike reviews above, you can see that some electric bikes are priced under a thousand bucks.
Conclusion
It's fascinating how companies are shifting to electric bikes due to their great technology features, efficiency, and speed, especially if it's a high-quality products. At the end of the day, you want an electric bike that is comfortable and capable of providing payload and a bang for the buck.
All of our reviewed e-bikes are among the best selection on the market; however, the Heybike Cityscape Electric Bike is our ultimate electric bike for a delivery job. This may be slow, but for its low price, low-frame concept, and long rear rack for more storage, it's a suitable option.